Self-Sealing Fasteners / Self-Sealing Nuts
Self-Sealing Nuts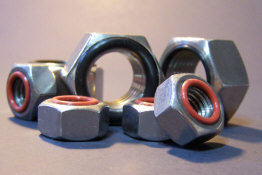 Self-Sealing Nuts
(Click to Enlarge)
ZāGO seal nuts meet and/or exceed the requirements of environments where gaseous or liquid pressure is a factor and a complete seal is required. ZāGO's seal nuts are also invaluable when a vacuum needs to be created. Our sealnuts are reusable and can be made from numerous combinations of rubber and steel.
Seal Nuts are considered effortless, dependable & cost-effective because:
Seal Nuts seal out water/moisture, air, dust, liquids, and other contaminants either in through the thread or bearing face

Seal Nuts seals in water, fluids, air, and vapors

Seal Nuts reduce noise and vibration and they are re-usable

Seal Nuts do not require any special installation
ZaGO's sealing nuts are a one-piece structural component, eliminating the need for gaskets, compounds and or surface preparations. Applying torque creates a three-way tensioning effect to guarantee an air & water-tight seal around the fastener assembly. Seal nuts are widely used in hydraulic and pneumatic or fuel systems applications.
Please view our E-Catalog page for seal nuts to view all thread sizes available.