ZāGO / News Releases
ZaGO switch boots: Sealing protection
when IP-67 isn't worth its salt

February 10, 2011, Newark, NJ – ZaGO Manufacturing Company, Inc. – announces the expansion of its line of sealing switch boots designed to protect sealed switches where an IP-67 sealing rating is not sufficient. ZaGO is manufacturing its sealing switch boots in direct response to customer need.
Recently, a ZaGO customer prominent in the manufacture of navigation instruments complained to ZaGO that although the pushbutton switch it uses to operate its marine navigation system is sealed to IP-67, the switch was malfunctioning because it was continually getting gummed up with salt deposits. ZaGO immediately sized up the situation, offering the ideal sealing solution with a custom pushbutton boot. What the customer recognized was that simply because a switch is labeled "sealed" it doesn't mean it is sealed sufficiently to actually protect the switch where it needs protection most. What ZaGO supplied was a unique sealing solution.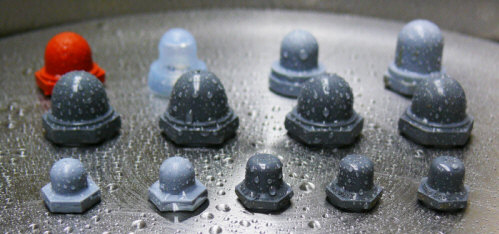 ZaGO specializes in designing economical, environmentally responsible sealing solutions that will ensure the long lasting and dependable operation of switches. ZaGO's technical group is always available to work alongside its customers' engineers to create a unique design to fit their specifications and ensure the highest quality product.
Today major manufacturers of switches and circuit breakers are increasingly choosing ZaGO's waterproof rubber boots not just for their high quality and cost competitiveness, but also because ZaGO's switch covers have an excellent "feel" upon actuation, are durable and dependable, and can be ordered in a wide variety of colors.
For additional information contact Jackie Luciano-Brito at Jackie@Zago.com.
ZaGO Manufacturing Company has been has been producing sealing products for nearly twenty years in Newark, New Jersey. Operating out of a state-of-the-art facility in south Newark in close proximity to Newark Airport, the Port of Newark and all of New Jersey's major transportation and mass transit routes, ZaGO makes daily shipments throughout the United States, Central and South America, Mexico, Canada, Europe and Asia.
Contact: Jaqueline Luciano-Brito
ZaGO Manufacturing Company, Inc.
Phone: (973) 643-6700
Fax: (973) 643-4433
Email: Jackie@zago.com
www.switchboots.com


Click here to read more articles