ZāGO / News Releases
ZaGO Manufacturing Company Puts
Parking Revenue System Back in the Right Spot

March 25, 2010 Newark, NJ
Recently, a long-established, well respected manufacturer of parking revenue systems turned to ZaGO for a solution to prevent rain water from leaking in through its pushbutton panel and causing worrisome malfunctions. Within short order, the leaky system was analyzed, a solution was devised and ZaGO's sealing switch boots were shipped. Problem solved.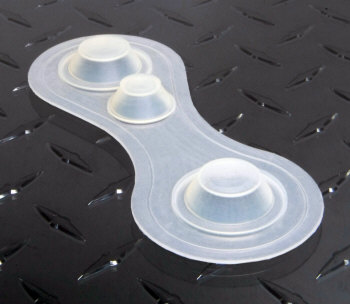 "Our greatest strength here at ZaGO is our ability to work alongside our customer to devise the best solution for their sealing problems," said ZaGO owner Harvey Rottenstrich. "We never assume that we know more than our customer about what they need; we listen, and work with them to find the absolute best solution."
ZaGO Manufacturing Co. is now pleased to introduce this new option for front panel sealing. This option includes a sealing cover in either colored or transparent material (for illuminated and non-illuminated applications). These covers provide a positive seal when actuators are projecting from the front panel, providing protection from salt sprays, spills and other harsh environmental challenges. The switch covers maintain effective sealing for temperature ranges of -67F to 356F. This kind of performance and added reliability can be designed into your panel for a low cost with minimum orders as low as 25 pieces.
ZaGO's rubber switch boots and covers were developed as accessories that will eliminate expensive mal-function/repair of equipment and to greatly expand the selection of sealed switches. Our line of switch boots and panel covers are available for all types of switches with bushing thread sizes in metric or inches, as well as non-bushing switch covers as shown in the photo. ZaGO has the capability to design a switch cover to fit your specific application with easy installation.
Contact: Jaqueline Luciano-Brito
ZaGO Manufacturing Company, Inc.
Phone: (973) 643-6700
Fax: (973) 643-4433
Email: Jackie@zago.com
www.switchboots.com


Click here to read more articles