ZāGO / News Releases
ZaGO's New Crystal Tactile O-Ring Seals
( 9/18/2011 )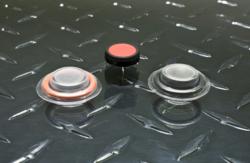 The problem is that traditional tactile switches do not survive under severe environmental conditions. In response to customer needs ZaGO developed a double sealed structure to protect not only the switch but the cut-out in the panel as well. An O-ring is inserted in a groove imbedded in the switch seal, as the surface of the panel is brought together with the seal, the o-ring cross section is squeezed. This action results in deformation of the ring and forms a seal. O-ring seals are easy to maintain: they are flexible and they also absorb metal tolerance stack-up, so this becomes a great solution.
ZaGO's Crystal Seals have a high modulus of elasticity, making them flexible but at the same time enabling them to retain their hardness, offering excellent abrasion and chemical resistance. It also offers very good impact and flexibility at low temperatures. ZaGO?s new Crystal O-ring Seal is designed to fit most brands of push button tactile switches.
ZaGO specializes in designing practical, economical, environmentally responsbile sealing solutions that will ensure the long lasting and dependable operation of switches. ZaGO?s technical group is always available to work alongside its customers? engineers to create a unique design to fit their specifications and ensure the highest quality product.
Today, major manufacturers of rocker, push button, toggle and tactile switches, and circuit breakers are increasingly choosing ZaGO?s waterproof sealing switch boots not just for their high quality and cost competitiveness, but also because ZaGO?s switch covers have an excellent ?feel? upon actuation. They are durable and dependable, and can be ordered crystal clear, or in a wide variety of colors.
ZaGO Manufacturing Company has been has been producing sealing products for nearly twenty years in Newark, New Jersey. Operating out of a state-of-the-art facility in south Newark in close proximity to Newark Airport, the Port of Newark and all of New Jersey?s major transportation and mass transit routes, ZaGO makes daily shipments throughout the United States, Central and South America, Mexico, Canada, Europe and Asia.
Contact: Jaqueline Luciano-Brito
ZaGO Manufacturing Company, Inc.
Phone: (973) 643-6700
Fax: (973) 643-4433
Email: Jackie@zago.com
www.switchboots.com


Click here to read more articles